Do you spend hours in front of the computer either working or gaming? Do you spend those hours sat in an uncomfortable old chair that gives you a numb backside? Do you long for something more comfortable to ease those pains and help you relax a bit more? Then why not try the Zero-Gee chair?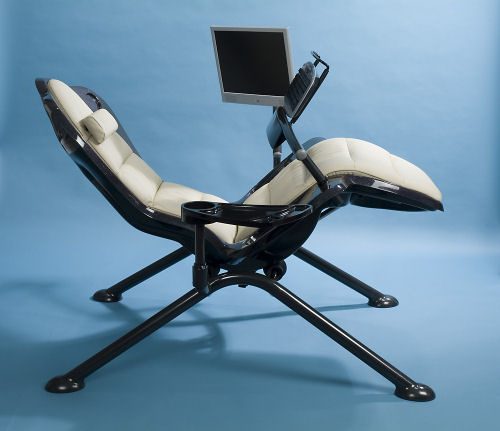 I've often imagined a chair a little like this, a cross between an armchair and a workstation. While this is just a design proposal at the moment, the Zero-Gee chair looks like it could make those late night gaming sessions a lot more comfortable. You're almost laid back in the chair, with your monitor and keyboard attached in front of you and a fixed mouse pad area falling comfortably to hand.
Whether or not it's too comfortable would remain to be seen, as I could easily see myself nodding off halfway through the day. However, if the manufacturers want anyone to test it for them I'll be happy to give it a try.
My suggestions – stick some good 2.1 speakers in the headrest and a build a small fridge into the base to keep a few tinnies nice and cool!