Top Gaming Mouse
Although Chris has decided that the best gaming mouse is the Logitech G9, I'm afraid I'm going to have to disagree with him. So I thought I'd choose my top gaming mouse and explain why.
For me the Logitech G9 is an odd shape, no matter which of the two grips you use, and as a result I find I just can't get on with it. Sure, it's technically great, but if it doesn't feel right then it's no good for me. No, my top gaming mouse must be comfortable above all else, then have enough buttons for adding a few game commands. Let me show you my choices.
Top Gaming Mouse For FPS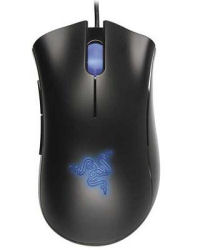 This one is easy. The top gaming mouse for a first-person shooter should have a good sensor with adjustable dpi, be comfortable (there's a lot of hand movements going on) and have a couple of extra buttons. So my choice? Razer Deathadder, without a doubt.
The two side buttons are great for adding the on-the-fly dpi adjustment, or maybe extra moves such as grenade or zoom, or whatever you like. The high arch in the back of the Deathadder is just perfect for supporting your palm, making it sweet to hold over extended sessions.
Last, but not least, the 1800 dpi sensor is excellent. No skipping, just perfect tracking at a speed that's more than adequate, and the adjustable dpi makes it as good for strafing as it is for precise head shots.
Top Gaming Mouse For MMO
Picking a top gaming mouse for an MMO is all about buttons. Programmable buttons, and lots of them, but you need to be sure they're all usable. I tried the 15-button Steelseries World Of Warcraft mouse and didn't like the position of the extra side buttons, so instead I settle for something a bit more traditional.
The Deathadder would be just as good for an MMO, but I think it falls short on the button count and so I use a Logitech G5. It's an old design but it's a great one. Right-handed with a smooth shape, there are nine buttons on there that can all be programmed. Oh yes, it's macro central with the Logitech G5. Just work out the sequence of keys for that killer move and then program them into the G5 with Logitech's driver software and then bam! press one button and execute the move perfectly every time. Definitely my top gaming mouse for World of Warcraft.
A Top Gaming Mouse Doesn't Have To Be Brand New
The best thing of both of these mice is that they're old designs. This has two advantages. The first is that all the people who went out and bought them on launch day did all of the testing for me and as a result all of the bugs and glitches have been sorted out. And also, because they're old and not the latest, greatest thing they're also cheaper to buy. The Deathadder can be picked up for about $45, while the G5 is a steal at just over $30.