Steelseries Announce WoW:Cataclysm Mouse
World Of Warcraft is familiar territory for Steelseries. They've previously released a WoW-branded mouse that featured fiftenn buttons, but here they are again with a new design to celebrate the upcoming release of World Of Warcraft:Cataclysm.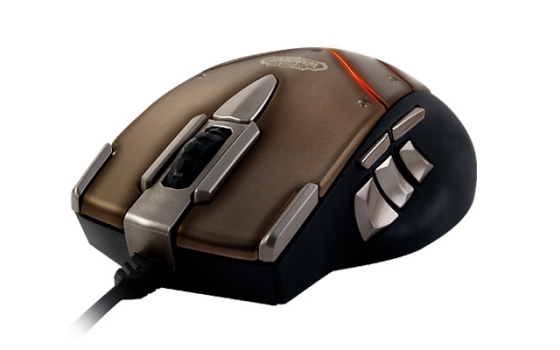 The Steelseries World Of Warcraft:Cataclysm mouse brings a darker look to the party to match the mood of the upcoming Cataclysm. Whereas the previous WoW mouse was silver with yellow lighting, this one has a brushed aluminium effect with bronze backlighting. If you're not keen on the colour of the lighting it can be changed to one of 16 million colours with four levels of intensity and the option to make it pulsate.
The new WoW:Cataclysm mouse offers you fourteen programmable buttons upon which you can load your character's essential macros, and with ten different profiles available you can have a different layout for each of your favourite characters.
The other upgrade is to the sensor, which now works at up to 5,040dpi and is fully adjustable.
Looking at the images the button positioning seems to improve on the old WoW mouse's weak point, where some of the little buttons were akward to press accurately.
The World of Warcraft: Cataclysm Gaming Mouse will be available in stores on the same day as the release of the Cataclysm expansion – December 7th – and will be priced at $99.