Steelseries Shift Keyboard Takes Zboard Upmarket
Way, way back in the mists of time there was a keyboard called the Ideazon Zboard. This was a clever keyboard that allowed a gamer to switch from a standard QWERTY layout to a game-specific keyset that put the important gaming commands in a more accessible layout. Then a company called Steelseries took over and started selling it as the Steelseries Zboard, and it continued to be a success with more and more keysets being released.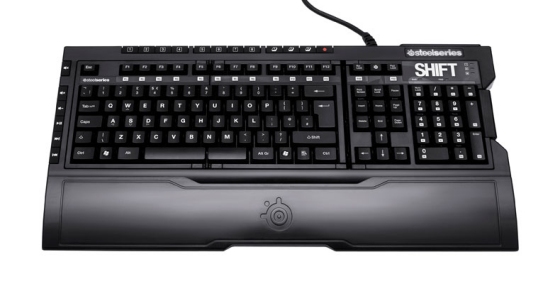 Now Steelseries have decided to improve on the formula but drop the Zboard name. Say 'hello' to the new Steelseries Shift, a gaming keyboard that takes the the old Zboard design and adds a few extra features to bring it into the 21st century.
The basic mechanism is the same. You get a base unit and a detachable keyset with a standard QWERTY layout and you can then buy one of many game-specific keysets (think Medal of Honour, World of Warcraft:Cataclysm, Starcraft II etc) to plug into the base. The new Shift keyboard is also compatible with the entire back catalogue of Zboard keysets, so if you've bought one in the past you'll be able to carry on using it.
So what's new on the Shift? There are a few useful additions to the base unit:
Gold plated audio-out and microphone-in 3.5mm ports
2 USB 2.0 ports, one of which is powered
LED indicators to tell you when profiles or functions are active
A full set of multimedia keys that are separate to the keyset
With on board memory you can easily record up to 3 layers of on-the-fly macros at the top of the SteelSeries Shift base, and the Bar and Pad Lock keys allow additional layers of mapping on the F and NUM Pad keys that can be utilized in games or in daily applications.
Steelseries have also focused on the quality of the components in the Shift. Whereas the old Zboard felt a bit flimsy, the new Shift board is made from premium plastics and has a better finish to the tactile areas. Under the keys you'll find enhanced rubber domes that give the buttons a much longer life expectancy over standard keyboards, and also allow for varying pressures – the commonly-used keys are easier to activate than the other keys.
One thing that concerns me is that the Shift only comes with the QWERTY keyset, whereas I'm pretty sure the old Zboard came with an additional gaming keyset. Now you have to seperately buy your first keyset before you can make full use of the Shift, and that seems a bit mean to me. At least the keysets are reasonably affordable at $25 while the Shift Base is priced at $90, which isn't too bad.