I'm sure you've all heard of the likes of Logitech, Razer and Saitek, all manufacturers of popular gaming mice. But have you heard of a company called Silverstone and their new gaming mouse, the Silverstone Raven?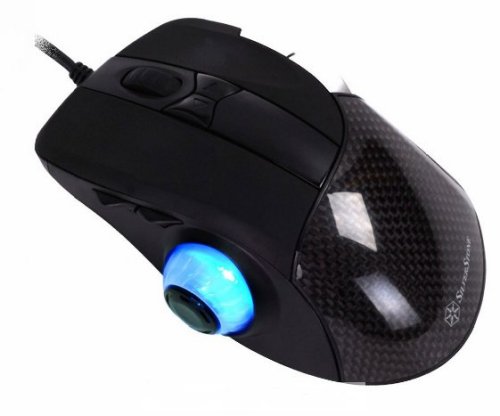 Specification
So looking at the Raven you can immediately spot the unique feature of its design – the large protrusion where your thumb would normally rest (more on this in a moment). Other than that this is a typical gaming mouse, with features including:
3200DPI Philips PLN2030 twin-eye laser sensor with 50g acceleration accuracy
On-the-fly DPI adjustment from 400 to 3200DPI with independent settings on X and Y-axis
Eleven buttons, including two scroll wheels, six of which are programmable (macros etc.)
Toggle between Windows mode or Game mode
5 programmable button profiles
OLED display (128×32) that shows DPI settings and operation mode
Solid Build Quality
Manufactured from strong plastic and decorated in black with a carbon-fibre effect on the shell, the Silverstone Raven feels like it will last. The left/right buttons are covered in a rubbery material that helps grip, while the rest of the case is smooth plastic.
The mouse is comfortable to hold, although is not very well-suited to gamers with small hands (mine are king of average-sized) and measures 128 x 85 x 45mm. Silverstone also claim that the positioning of the laser sensor in the Raven gives it prefect 50:50 weight balance (all 182 grams), although I doubt many people will really notice any benefit from that.
Underneath the mouse you'll find four teflon-covered feet that allow smooth gliding, and there's also a switch to toggle between Windows and Game modes.
But Where Does My Thumb Go?
So let's get the burning question out of the way – what the hell is the lump sticking out of the side? Well, this is a second mouse-wheel that by default controls task switching in Windows XP or Flip 3D in Vista. In the centre of the wheel is a button that switches between DPI settings in Windows mode, or five DPI/button profiles in game mode.
Also in game mode, when one of the two buttons on top of the mouse are pressed (below the left/right buttons) and the wheel is moved the DPI setting of either the X or Y axis can be changed on-the-fly.
So far so good.
Let Battle Commence
I decided to put the Raven to use in a few rounds of Counterstrike to see how well the 3200DPI sensor coped.
The sensor tracks well from 400DPI all the way up to 3200DPI and the buttons all act with a satisfying click. The on-the-fly DPI adjustment is simple to use and the OLED display presents the current level in a clear font, along with an animated Raven logo.
But … and yes, there is a but … the thumb-wheel is a bit of a nuisance. It's incredibly easy to catch the DPI button at the centre of the wheel, and if you're in Windows mode that means it's easy to accidentally switch between DPI levels. If you're at 3200DPI you'll catch the button and suddenly find yourself at 400DPI … more often than not resulting in in-game death as you desperately struggle to get back up to your original DPI.
Even switching to gaming mode won't fix it, partly because this is easy to forget as the switch is hidden away on the base of the mouse. You'll still have the same problem with the DPI button, only this time it will be switching between your five DPI and button profiles. The problem disappears if you only have one profile, but that then makes a mockery of the ability to have 'up to 5 profiles'.
Admittedly this is less of a problem when using the Raven for less frantic games or normal Windows applications, but the Raven is billed as a gaming mouse and FPS games are incredibly popula
Conclusion
The Silverstone Raven looks great when reading the specification list but fails to back that up when you're actually using it.
Solidly built and with most of the features you'd expect of a top-ranking gaming mouse, it's that unique side scrollwheel that proves to be the Raven's biggest weakness. Admittedly I didn't use the mouse for a prolonged period of time, and it might be that I would have got used to the button with time. However, first impressions count for a lot, and when there are so many other top gaming mice to choose from you have to ask why you should put up with such a strange design when the benefits are fairly minimal.
It's a nice try from Silverstone, but unless you really like the unique design I'd recommend you look elsewhere for a new gaming mouse.