Saitek Cyborg Keyboard Release Delayed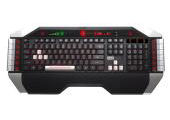 It looks like its not just Roccat who are delaying their new products, Saitek are doing it as well.
Having pre-ordered a Saitek Cyborg keyboard, I was expecting it to arrive nearly two weeks ago. However, there's been no delivery man knocking at the door.
A quick look around the websites offering the keyboard has revealed that the anticapated release date is now 15th March, nearly a month's delay.
So that means no review for another couple of weeks. Sorry folks.