Saitek Cyborg Already Under £50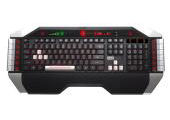 Well, I've decided to put my hand in my pocket and order a Saitek Cyborg gaming keyboard.
When I wrote my preview on the Saitek Cyborg I was quite impressed with the list of features, but was put off by the price of £69.99 (plus delivery) at Amazon.
Well, I was pleasantly surprised to discover that Play.com are offering the Saitek Cyborg keyboard for only £49.99, and that's including delivery! I've bought from Play.com for years now and find they're usually very good on price, and this seemed too good to miss. So I've pre-ordered one in time for its release in February.
When it arrives I'll post up an in-depth review, hopefully with some good pics.