Roccat Kone – What On Earth Is That?
Check out the Gaming Weapons Roccat Kone review.
Roccat are here, and they intend to stir up trouble with their new Roccat Kone gaming mouse and Roccat Valo gaming keyboard. They're going head to head with the big boys and they mean business.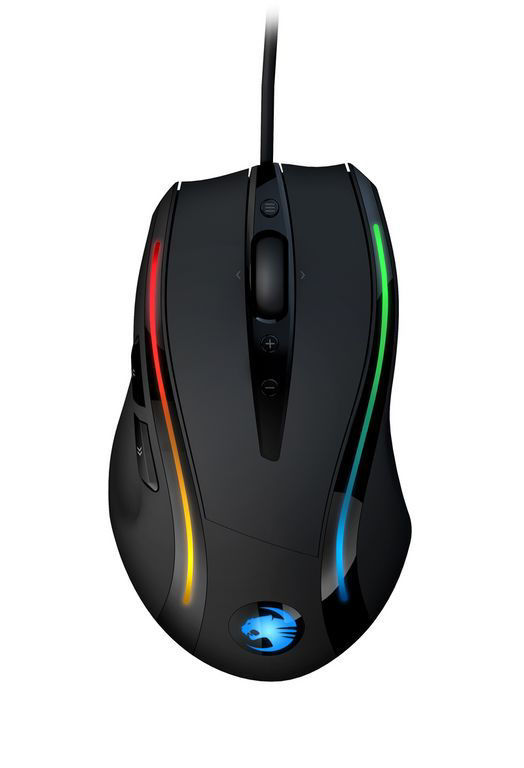 First up in their range is the Roccat Kone gaming mouse. Looking like the lovechild of a Razer Lachesis and Microsoft Sidewinder, the Kone packs an impressive array of features into a beautifully designed case.
Now I think Razer have been top of the game when it comes to making cool-looking mice, but IMO the Roccat Kone looks better than anything they currently offer. The right-handed design is clean and sleek, with simple buttons keeping the profile uncluttered. However, the high point of its visual appeal is the lighting that comprises 5 LEDs, each of which can be programmed to glow in your choice of more than 1000 colors. Probably not the sort of thing to improve your gaming performance, but I'll bet it looks great!
Other features? Take a look:
Pro-Aim Gaming Sensor with Distance Control Unit (DCU) to avoid Pick-Up-Flight Syndrome
Integrated TurboCore (40MHz) for enhanced processing power
5 profiles for ultra long macros stored directly on the mouse
Customizable light system with thousands of colors
4 easy to clip in weights for individual weight adjustment
10 mouse buttons (6 customizable) + 4-way wheel
Right handed shape with fully coated surface for maximum grip
Vehicle Control Mode for easy helicopter, jet or car control without joystick
Plug in slot for optional gadgets
The Vehicle Control Mode sounds intriguing, I'm not sure how that will work in practice. The gadget slot also sounds like an interesting addition, but I'm not sure what gadgets will be offered (hopefully they'll be more interesting than those for the Razer Tarantula keyboard). The DCU aims to shut-off the sensor if it detects that the mouse has been lifted up, but personally I try to avoid swinging my mouse around my head while playing a game.
This all sounds like the Roccat Kone will be a serious rival to the best that Logitech, Razer and Microsoft can offer. Priced at around 70 euros when it hits European stores in February, it will be competing directly with the Lachesis, G9 and Sidewinder. If the final product lives up to the promise of the spec it will definitely be a candidate for Best Gaming Mouse 2008.
Roccat Valo
The next product is the Roccat Valo gaming keyboard, and this is another top-spec item. This time it looks like the accidental result of a wild night of passion between a Razer Tarantula and Logitech G15, with the best features of both showing through.
Roccat Valo Gaming Keyboard
Haven't we seen these features before?
It's got the looks of the Tarantula, featuring a black case with 3-stage adjustable backlighting (sadly only in blue, without the 1000+ colours of the Kone mouse). It's also got an LCD display, as seen on the G15, showing vital system stats. The full list of features includes:
Illuminated keys
LCD display showing vital in-game information
41 macro keys for ultra long macros with 512 keystrokes plus timing information stored directly on the keyboard
2MB integrated memory for storing 5 profiles with 4 layers each including individual macros
Integrated TurboCore Unit (40MHZ) for up to twice the processing power of other high class gaming keyboards
Macro Pause and Macro Kill buttons for quick and easy macro recording in seconds without leaving the game
Enhanced connectivity with 2 USB ports, headphone and microphone ports
External microphone with uni-directional noise-cancellation technology
Anti-Ghosting capability for simultaneous keystrokes
Media keys with quick access to important multimedia functions
Compact gaming shape with rubber coated frame for long lasting maximum grip and comfort
Windows keys, Shift Key, Caps-Lock and Tab-Key can be deactivated to avoid accidental return to the Windows Desktop or wrong keystrokes
Like the Kone, the Valo is priced to compete with the best keyboards on offer. At 100 euros, it will be in a strong position to take sales from the Razer Tarantula and Logitech G15.
I wish Roccat every bit of success with their new gaming range. As gamers we only stand to benefit from another manufacturer entering the arena, as it will help to drive down costs and increase quality from the established leaders. If I were in Razer's or Logitech's shoes, I'd be worried.
Do I want either of these? Hell, yeah!