Roccat Kone[+] Gets More Features
When the Roccat Kone first came out I was right there at the front of the queue to pick one up. At the time it had a great spec that made it one of the most feature packed gaming mice available, and as you may have read in my Kone review I loved it. In fact I still use it, despite the hiccup with the fragile scrollwheel that required a replacement mouse. Well, now there's an even better version – the Roccat Kone[+].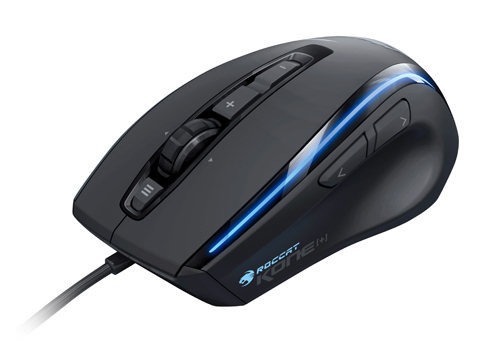 So what have Roccat done to improve the Kone? The first thing is to stick a new sensor inside the shell that boasts (a slightly absurd) 6,000dpi. It can handle up to to 30G acceleration and process at speeds of up to 5m/s and  200ips. The refresh rate remains the same at 1000Hz.
The EasyShift button is carried over from the Pyra mouse, which doubles up the functions available from each button. Acting like the Shift key on a keyboard this button means that you can now assign 22 functions to the remaining eleven buttons.
Another cool feature they've added is a new voice feedback system. Whenever you change the dpi setting or the active memory profile you will hear a voice telling you what you've just selected. No need to look at the mouse or an indicator on the screen to double-check that you've got the right setting, you'll just hear someone telling you. Simple but effective.
The weight system has changed slightly. On the original Kone you had four different weights (from 5g to 20g), one of which could be fitted into the base of the mouse. Now there are four 5g weights and you can choose how many of those to fit into the mouse. While this doesn't make any practical difference to the weight of the mouse, it does at least mean that the hole for the weights has got a proper cover.
Cosmetically there are subtle differences. The colouring is largely the same, but the glowing Thundercats Roccat logo is replaced with a grey image painted over tha back of the shell. There are also more obvious Roccat logos on the sides. The buttons are given a bit of a makeover and look a little chunkier now, and hopefully that means that there won't be a repeat of the failing mouse wheel issue.
Check out the trailer below, where an excited man with a suitably gravelly voice takes us through the best of the features: