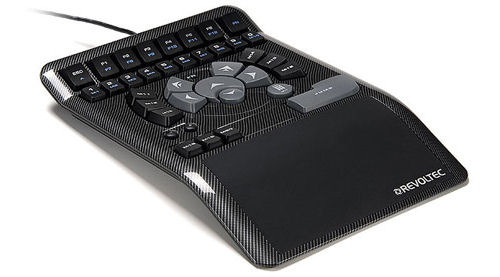 Here's a new addition to the growing range of gaming keypads, the Revoltec Fightpad Advanced.
Featuring a mock carbon fibre shell, the Revoltec Fightpad Advanced is an updated version of their old Fightboard. It features programmable keys and an ergonomic design, but you kind of expect that of a keypad, so what are the plus points to the Fightpad?
Well, its ergonomic design is different, shaped like a slightly flattened 'Z'. This means the palm rest and top row of keys are slightly elevated, which I found to be quite comfortable. They keys seem to be reasonably well constructed and have a nice action. The main movement keys are highlighted in a lighter grey colour than the others, so you can identify them more easily. You can also program up to 20 macro commands onto the keypad, all done through the drivers included on a CD.
On the base are grippy rubber feet that seem to do a good job of keeping the Fightpad in its place, and there's some blue underbody lighting to give it that essential glowing ambience that every gaming peripheral seemingly needs these days.
On the downside there might be an issue for people with small hands, as some of the keys are on the large side and the top row of keys, acting as F1-F12 keys, might be too far to reach without lifting your hand from the keypad. The driver software also looks a bit tacky with an over-stylised interface, but it does the job and allows macros to be setup quite easily.
Overall it's a reasonable keypad that should make a fine accessory for the casual gamer. The l33t players will probably want something far more expensive, but won't necessarily gain that much more benefit.
The trick is going to be in finding one. The Fightpad that I used belonged to a friend, and he'd picked it up on eBay
. There are stockists of Revoltec products in the UK but I was struggling to find one selling the Fightpad. Expect a retail price of £30.
If you know a good Revoltec retailer in the UK then please, let us know by dropping the URL in the comment box.