Cut The Cord With Wireless Razer Naga Epic
The Razer Naga has been proving to be a big hit, and that's prompted a bit of a rethink of the design to make it appeal to even more gamers. First came the snazzy Molten and Maelstrom special editions with their unique patterns and backlighting. Now comes this latest version – the wireless Razer Naga.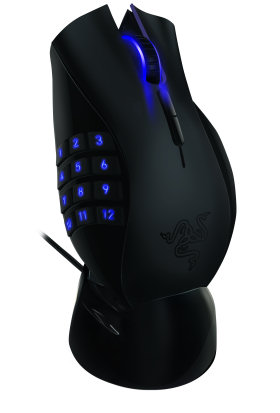 Razer have gone to town on the wireless version of the Naga. To start with you've got the same dual-mode wireless/wired capability that you'd find in the Mamba mouse, giving you wireless freedom when you want it and the ability to plug in a cable and carry on playing while the battery charges. Razer claim up to 12 hours battery life under continuous use or 72 hours of 'normal gaming use' (not sure what 'normal' means). When you're not playing you can drop the Naga into the charging cradle, which also doubles as the wireless receiver.
The next big change is to the right-hand side of the Naga's shell. You now get a choice of three different ergonomically designed side panels that allow you to adjust the feel of the mouse to suit your grip.
The last significant change is to the LED backlighting, which now allows you to pick from one of 16 million colours. Another nice touch that allows you to make the mouse 'yours' with a colour of your choosing.
The rest of the mouse remains the same. You've still got seventeen fully programmable buttons to play with, as well as a 5,600dpi laser sensor with 1 millisecond response time. There's also the Naga's special software Add-ons for an increasing range of games that allow the buttons to take on more of the in-game functions.
The wireless Razer Naga Epic will be available in November for $129, just in time for Santa to pick one up for you.