PC Steering Wheel Roundup
A PC steering wheel is a great accessory for any modern driving sim. You might have the best gaming mouse and the best gaming keyboard, but if you want to give yourself that extra bit of control as well as a better sense of immersion in the whole 'driving experience', then a PC steering wheel is definitely worth investing in.
The problem is which one do you choose. There are a lot of steering wheels available, some cheap, some very expensive, so which should you buy?

The first thing to do is to look at the list of features that you will want your PC steering wheel to have.
1. Analogue input is a must. You'd probably struggle to find a digital steering wheel these days, but for full control you really need an analogue wheel.
2. Plenty of buttons – if your hands are on the wheel, you don't want to be reaching over to the keyboard to fiddle with settings while you're trying to set a good qualifying time. The more programmable buttons on the wheel the better, as it allows you to shift more in-game functions onto the steering wheel.
3. Pedals – not every wheel comes with a set of pedals, but if you've got room to set them up then a wheel with 2 or 3 pedals gives you even more control as your feet can do their job controlling the brake, accelerator and (on some pedal units) the clutch.
4. Feedback – either through vibration or much better force feedback, this is where the steering wheel gives you an idea of the forces going through the wheels of your car. On a good wheel you'll be able to feel the rumblestrips and even the resistance of the front wheels as you turn into a corner.
4. Gear paddles – while not a must-have they do make for much easier gear changes, allowing you to ditch the game's auto gearbox and control the shifting yourself.
5. Manual gear stick – where gear paddles are great, they only allow you to go up and down through the gears sequentially. For full control, such as changing from fifth gear straight down to second, you need a manual H-pattern gear stick.
So now you have a rough idea of what to look for on your PC steering wheel, the next question is how much you want to spend. Steering wheels for the PC vary enormously in price, from around £20 up to £200, so set yourself a realistic budget or you could end up spending a lot of money.
To give you some help I've picked some of the best selling steering wheels at various prices. Bear in mind that the prices quoted here are the RRP, but if you shop around online you should be able to find the wheels for significantly less.


Trust GM-3100R
£25 or $89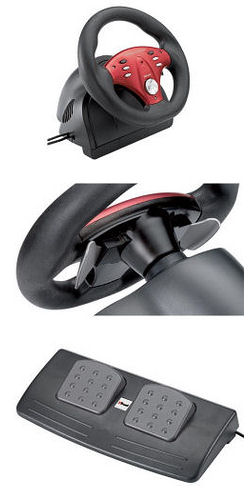 When you're spending as little as £25 for a PC steering wheel you'd be forgiven for thinking you're not going to get many features. However, the Trust GM-3100R will show you otherwise as it offers you vibration feedback, 6 buttons, an eight-way D-pad, two paddle shifts behind the wheel and also two foot-pedals.
That's not a bad list of features for a budget steering wheel, so what's the catch? Well, you're not getting the best in build quality. It's lightweight and plasticky and feels a little bit fragile. One problem I noticed while playing is that the small pedal unit has a habit of wandering around on the floor, as there's nowhere to rest your heels. You might also find your hands sweat a little on the rubber-coated steering wheel, but that's just being picky.
However, don't let this put you off. If you're after a cheap wheel for the occasional bit of driving you could do a lot worse than choose the Trust GM-3100R.
Check out the price of the Trust GM-3100R at Amazon

or Amazon

Logitech Formula Force EX
£50 or $80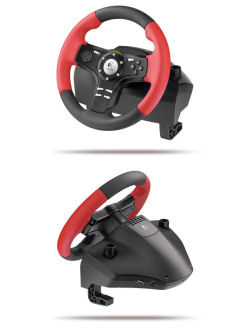 The Formula Force EX isn't Logitech's cheapest PC steering wheel, but it is the cheapest they offer with force feedback. Logitech have a good reputation as a manufacturer of gaming accessories but this is reflected slightly in the price of their products – you might be able to get the same features for less with another brand, but you won't get the same level of quality.
So what do you get on the Logitech Formula Force EX? As mentioned you get force feedback, the strength of which can be tweaked with the bundled Windows drivers. You also get shift paddles, two foot-pedals, 12 programmable buttons and an eight-way D-pad. The wheel has got two bright red rubber grips (sorry, those with clammy hands won't like the rubber after a long session) and there's a double clamping mechanism that gives a solid attachment to your desk.
The Formula Force EX feels solid and weighty, with a sturdiness to the movement of the wheel and nice action on the buttons. It feels like it could stand up to a bit more abuse than the Trust GM-3100R, but this is reflected in the asking price. For twice the cash you only get force feedback and six extra buttons, but you are getting a better quality item that should last longer.
If you're on a budget but can stretch to the price of the Formula Force EX you'll be getting a better PC steering wheel that should last you a few more miles.
Check out the price of the Logitech Formula Force EX at Amazon

or Amazon

Saitek R660 GT
£60 or $80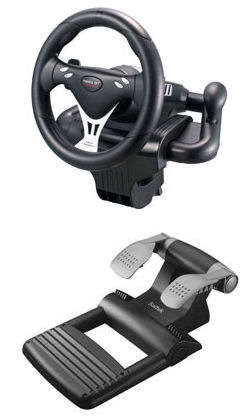 Moving up from the Logitech Formula Force EX, we get to the Saitek R660 GT. With this wheel we're adding another feature to the list, namely a manual gear stick. Sadly it only gives a semi-automatic action so behaves the same as the paddles (also included), but the stick can be mounted either side of the wheel so will suit both left and right-handed drivers.
You also get a good set of pedals with the Saitek R660 GT. They incorporate a large heel rest which seems to stop the unit moving around on the floor, and the two pedals are hinged at the top so move more like a real car's pedals and less like an oversized button. One criticism of the pedal unit is that it does feel a bit lightweight, but on the bright side the pedals are very responsive to input.
One poor aspect of this wheel is the lack of buttons. There are only four buttons available and there isn't even a D-pad, so in that respect the R660 GT is poorly equipped.
Is it worth paying the extra for the Saitek R660 GT? It depends on how much you want that gear stick, although to be honest you'd probably find yourself using the paddles most of the time. If you're not that bothered then it might be worth sticking with the Logitech, but on the other hand the foot-pedals on the Saitek are better.
Check out the price of the Saitek R660 at Amazon

or Amazon

Logitech G25
£200 or $300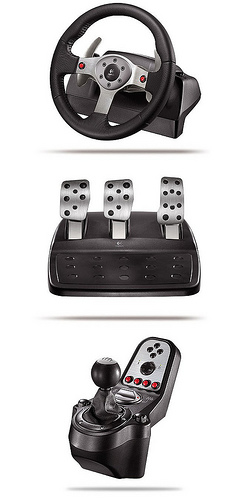 If you're a die-hard sim fan and you're after the best PC steering wheel, the Logitech G25 is considered by many to be The Daddy of them all.
So what do you get for your £200? Quite a lot as it happens, as this PC steering wheel is built to much higher standards than the lesser wheels on the market.
You get a leather wheel with 900 degrees of rotation (2.5 turns lock-to-lock), mimicking a real car's action, but the actual amounr of movement to go from lock-to-lock can be changed using Logitech's drivers. You also get dual motor force feedback, a six-speed H-pattern manual gear stick as well as paddle shifts on the wheel, accelerator, brake and clutch pedals, 12 programmable buttons and a D-pad.
It's got all of the features you'd want from a wheel (and so it should at this price) and is very solidly built, so it should last for a good few laps of the Nordschleife. The wheel is comfortable to hold, the leather allowing your hands to breath while you grip the wheel. The action of the wheel is on the firm side and the force feedback from the dual-motor setup is strong (again, this can be tailored with the drivers). The pedals also feel good, with a firm action.
Downsides? Well, if I'm being picky the steering wheel only has two buttons while the rest are mounted next to the manual gearstick, meaning you're likely to have to take a hand off the wheel to activate some in-game functions. But if you're using the H-pattern shift and steering with one hand you can reach the buttons while resting your other hand on the gear stick.
Other than that very minor gripe this is a first rate steering wheel that comes highly recommended. If you can justify the expense to yourself (and/or other half) then you'll find that the Logitech G25 will transform your driving experience.
Check out the price of the Logitech G25 at Amazon

or Amazon