OCZ Eclipse Review
The OCZ Eclipse is a new gaming mouse aimed at the budget end of the market. At a retail price of just 25 euros it should be a tempting purchase, but does that low price mean you're missing out on essential features?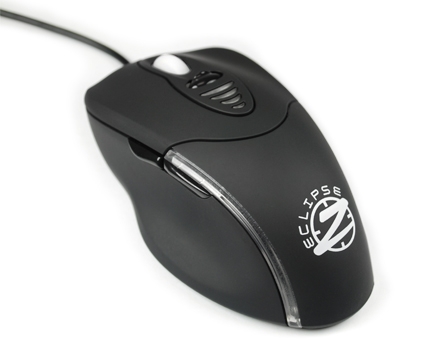 Specification
Max DPI
2400
Polling Rate
Hz
Max Tracking speed
60 inches/second
Max Acceleration
50g
Buttons
7 (5 programmable)
Operating System
Windows XP, Vista (32-bit only)
Warranty
2 years
Special Features
Onboard memory (save profiles)
Adjust weight up to 137g
LED display shows DPI
Black rubber coating helps grip
A quick look through the specification list shows that the OCZ Eclipse is offering some key features of far more expensive gaming mice – some on-board memory, adjustable weights, programmable buttons and a 3G 2400dpi laser sensor.
The OCZ Eclipse's sensor uses a double laser engine to provide accurate and predictable tracking at up to 60 inches per second. The sensitivity of the sensor can be adjusted from just 100dpi all the way up to 2,400 dpi settings. This can be managed on-the-fly using the two dedicated dpi up/down buttons, which switch between four different levels. The dpi value for each level is determined by the driver softtware and the four LEDs on top of the mouse show you which mode is active. It's a simple system that works well, the LEDs giving you an easy way to tell which mode you're in by simply glancing down at the mouse.
The onboard memory can store up to three different button profiles and is setup using the driver software. Once the buttons have been assigned a function or macro you can switch between profiles using a dedicated button on the underside of the mouse, and you can then plug the mouse into another PC without having to reinstall the drivers. The translucent scroll wheel is used to tell you which of the profiles is in use, glowing a different colour for each profile, so like the dpi LEDS it is easy to tell what profile is active with a glance. The driver software is simple to use and covers the most basic functions – setting up the DPI levels and defining the button functions and macros.
The weight system is also simple to use. Just pop off the top cover and load the weight cartridge with up to four 18g weights. With all four weights installed the Eclipse is 137g, and with no weights it is a feather-like 65g, so the weight system really does make a huge difference to the feel of the mouse.
Lets Get Testing
In use the ambidextrous shape of the mouse felt very comfortable, with no discomfort or cramped fingers even after a couple of solid hours shooting zombies in Left 4 Dead.
The Eclipse's size makes it best suited for people with 'average' sized hands, those with very small or very large hands might not find it that comfortable. However, despite that ambidextrous shape this isn't a mouse that would immediately appeal to left-handed gamers. The two slim thumb buttons on the left hand side of the mouse are not repeated on the right, so for left-handers these would have to be controlled by the little finger which may take some getting used to. However, for right handers who don't always feel comfortable with a forced right-hand mouse design this will be a good fit.
One thing I did notice was a very slight sluggishness in the sensor that made it slow to respond to changes in direction at very low speeds and sensitivity. I didn't notice it at all in games, as the mouse worked extremely well at higher DPI, but I did notice it in some Windows applications. It's not a huge problem and something you could learn to live with.
Conclusion
So how have OCZ managed to achieve this and keep the costs down? Well, one way is by re-licensing the design of the Creative HD7600 laser mouse. However, OCZ have taken the design of that mouse a step further and produced a better mouse for gamers.
At this price there's very little to complain about with the OCZ Eclipse. OK, so it may not have the high-quality feel of a Logitech or Razer mouse, but it does the job and does it well. It may 'only' have a 2400dpi sensor, but I think the OCZ Eclipse would easily satisfy the needs of most gamers without having to pay for a big brand name.
OCZ Eclipse On Ebay
No items matching your keywords were found.