The Nova Killer mousepad is a big favourite of mine, and now there is a new and improved version – the imaginatively titled Nova Killer 2.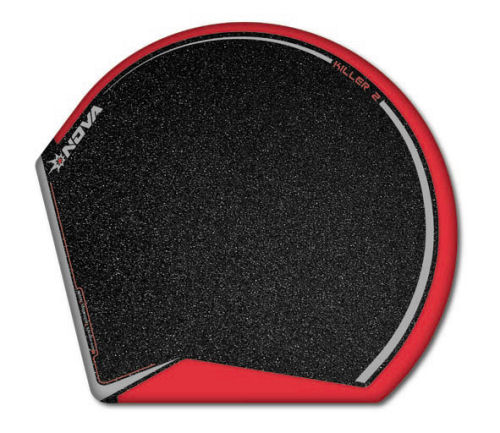 Sticking with the unusual shape of the original, the Nova Killer 2 is roughly the same size (337x307mm now, 320x320mm before) and is just as thin thin at only 3mm deep. This time the main surface of the pad can come in two colours, black or white, with the raised outer edge coming in a choice of red, black or silver.
Cosmetics aside the Nova Killer 2 is very much like the old version. The first thing you will probably notice about the Nova Killer 2 when you pick it up is its surface, which feels slightly gritty but without being rough. It is this gritty texture, as well as the metallic nature of the surface, that helps the Nova Killer 2 give fantastic results when used with optical and laser mice.
You should notice an immediate improvement in response when your mouse is placed on the Killer's surface. Cursor response is immediate and despite the grittiness of the surface there is very little friction when moving the mouse. Nova claim an 80% reduction in friction, and while I couldn't comment on the accuracy of that claim I will say that the mouse does seem to move a lot more easily. In play the unusual shape works quite well, and the raised edge is an excellent way of letting you know you're about to run off the edge of the pad.
The underneath of the Nova Killer 2 is also quite special, being made of a sponge-like material that grips solidly to smooth surfaces. There is no way this mousepad is going to move during gameplay, it holds onto the surface of a desk like a limpet to the hull of a ship.
I ordered my Nova Killer from Play.com for £17 and while that's not cheap (you might see one on eBay for slightly less) you shouldn't let the price put you off. The Nova Killer 2 is a great gaming mousepad and definitely worth investing in.