This is my first look at a Mionix mouse, so I thought I might as well look at the best they have to offer – the Saiph 3200.
If you haven't heard of them before, Mionix are a Swedish company who started up in 2007. So far they have produced just two mice (the Saiph 1800 and Saiph 3200), a mouse mat and some spare feet for their mice.
What Do You Get With The Saiph 3200?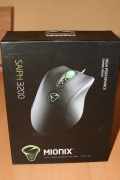 The first thing you will notice about the Saiph 3200 is the smart box. It's made from smooth, matt black cardboard and the front flap is held in place by a pair of magnets. The box shows the minimum of information and avoids all of the typical 'best mouse in the world' quotes that adorn the boxes of certain other manufacturers. Unlike some other manufacturers you don't have to trash the box to release the Saiph, meaning you can reuse it if you ever wanted to put it back into storage. My first impression of Mionix was that they know how to offer quality.
The same can be said of the Saiph 3200 itself. It is a simple black design that bears more than a slight resemblance to the Razer Deathadder, with the glowing Mionix logo and illuminated scroll wheel brightening it up. The surface of the mouse is covered in a rubbery coating that's nice to touch and helps with grip.
The Saiph is a corded mouse and connects to the PC via a 1.2m long braided cable with a gold-plated USB connector on the end. A nice touch that adds to that impression of quality.
Rather oddly there was nothing else in the box at all. No installation guide, no driver CD, no printed instructions on where to download the drivers from. I don't know if this was a one-off with the box I got or if it's how Mionix prefer to do business. It was easy to find and download the drivers from the Mionix website, but I can imagine this lack of instructions could cause some less able gamers to struggle to get their mouse installed.
What's Special About The Saiph 3200?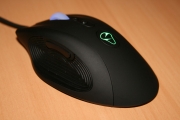 Ergonomically designed for right-handers, the Saiph 3200 features a rocker switch for your thumb on the left-hand side of the mouse. On the top you get your usual two main buttons and scrollwheel (with click), and situated below that are two dedicated buttons for swapping between seven dpi increments. So seven buttons in total, five of which are programmable.
Also on top of the mouse are the bright green Mionix logo and a scroll wheel that changes colour depending on which of the seven DPI levels you have selected. It's not quite the same level of sophisticated cool that you'll see on a Razer or Logitech mouse, but it's distinctive and makes a nice change from blue.
Under the shell is a 3200dpi Cypress laser sensor. This promises some decent performance – 1ms response time, 40000Hz sampling rate, and can cope with speeds of up to 50 inches/second and acceleration of up to 20g.
Underneath you'll find a removable cover that releases the weight container. Looking like a quick loader for a six-shooter, the weight cartridge holds up to nine 3g weights giving you up to 27g of customisation on the mouse weight. Personally I like a heavy feel to my mouse so I left all nine weights in.
Setting Up The Saiph 3200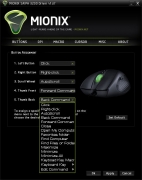 As mentioned above I didn't get a driver CD with the Saiph but it only took a minute to find and download the drivers (version 1.07) which are quite compact at 1.2MB. Installing them is easy and only takes a few moments.
The driver software covers everything you'd expect, from button assignment and macro recording through to adjusting the dpi levels. There are seven levels of adjustment and you can set them to whatever values you want between 400 and 3200dpi. Recording macros is straightforward, you just assign 'macro function' on the button screen and then go to the macro section to record the keystrokes.
There are also controls for cursor acceleration, double-click speed and page scrolling. The scroll wheel can be set to move either one, three or six lines at a time, or even a whole page.
Using The Saiph 3200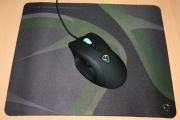 The Saiph was put to work as my daily work mouse, and then in evenings as my gaming mouse. Work includes development and word processing, while for testing in games I thought I'd carry on zombie-bashing in L4D and return to Azeroth for a bit of WoW.
In both Windows and games the Saiph works extremely well. It's very comfortable to use, nicely supporting the palm of the hand, and the laser tracks all mouse movements accurately and smoothly. I particularly liked the thumb rest on the left, where the side of the mouse sticks out slightly and has a soft rubber coating (ribbed for your pleasure ;)).
I tested the Saiph with one of Mionix's mousepads, the Alioth 320. When used on the Alioth the Saiph tracks with amazing accuracy and the hand movements necessary to move the cursor around are reduced significantly.
One gripe I have is that the colours of the scrollwheel aren't much help in identifying your DPI level. Each of the seven DPI levels has it's own colour but they don't seem to follow a logical pattern – first blue then green, red, pale blue, medium blue, purple and pale green. It would be much better if the colours at least cycled through in a logical sequence or, even better, you could choose the colour for each DPI level through the drivers.
The only other minor problem I had was with the rocker switch on the left side. It works with an easy click but I never got comfortable using it as a rocker. Rocking my thumb back and forth wasn't very comfortable without lifting my hand slightly from the mouse, so in the end I reverted to holding my thumb at 45 degrees and treating it as two separate buttons.
Where To Buy
With Mionix being a relatively new company you won't find their mice in every high street store. I bought my Saiph (and accompanying Alioth mousepad) from Ebay where there were plenty on offer, and both Amazon.co.uk and Play.com have got them in stock too. Outside of Europe you may struggle to locate one at the moment, but you may find some sellers on Ebay are willing to ship internationally.
Retail price is €59.90 (about £50) but you can expect to pay around £45.
Conclusion
After a week with the Mionix Saiph 3200 I ended up really liking it. It's got all of the things you need from a gaming mouse – good laser with adjustable dpi, programmable buttons and a comfortable shape. I think it looks smart too, exudes an air of quality and comes at a reasonable price.
Could it be the best gaming mouse I've tried this year? Yes, it's definitely a contender, just let down ever-so-slightly by that coloured scroll wheel and the rocker button. But don't let those minor points put you off as the Mionix Saiph 3200 is a great gaming mouse and deserves a place in any gamer's arsenal.