Mionix Naos 5000 Rivals Top-Spec Mice
Mionix make some great gaming kit (check out my Mionix Saiph 3200 review) but the new Mionix Naos 5000 looks like it's going to be their best product yet.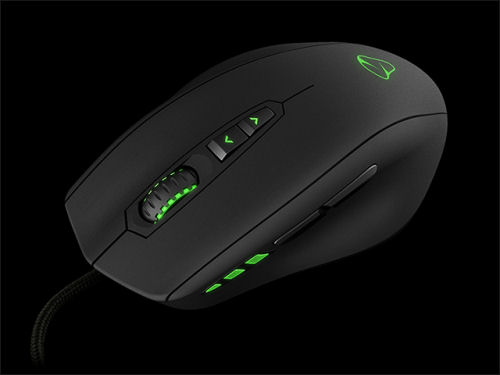 Packed full of features, the Naos 5000 is an ergonomic design that builds on the success of the Saiph. The new design is wider than the Saiph and supports all five fingers, making it perfect for gamers who like a palm grip. The entire surface of the Naos is covered in rubber to ensure a good grip.
At the heart of the Mionix Naos is a new 5,040dpi laser sensor that has an adjustable polling rate of up to 1000Hz (1 millisecond) and features an adjustable lift-off distance. It supports three levels of dpi for in-game adjustability and these are accessed by the two buttons on top of the mouse. Three LEDs on the left side give you an indication of which DPI level is active.
There is a new feature unique to the Naos, the amusingly named S.Q.A.T. Standing for Surface Quality Analyzer Tool, the Naos measures the tracking quality of the surface its being used on. This allows you to test your mousepad or desk surface and make sure you don't have any tracking issues with a poor surface.
As with the Saiph 3200, the Naos features a centralised weight tuning system that allows you to add up eight 5g weights for a total of 40g. Any weights you add are kept in the centre of the mouse, making it more neutrally balanced.
There are seven buttons in total, all of which can be programmed with a key, mouse command or macro. The settings for these can be stored in the on-board memory that has space for up to five different button profiles, and you can move between profiles with a single click of a button.
Last, but not least, the Naos features a new LED lighting system that's a big improvement on the Saiph (one of my few criticisms of that mouse). Six LEDs are responsible for lighting up the scrollwheel, DPI buttons, DPI indicators and the logo. You can choose which of the LEDs are lit and specify the colour from any of 24 shades.
The Mionix Naos 5000 is available now, and I can't wait to give it a try.
Mionix Naos Laser Sensor Specification
• 5040 dpi gaming laser sensor
• S.Q.A.T – Surface Quality Analyzer Tool
• Adjustable lift distance
• 1 ms response time
• 12 000 frames/sec
• Tracking speed: 5.1 m/sec (200 ips)
• 10.6 megapixels/sec image processing
• Acceleration: 30 g
• 40 000 Hz sampling rate
• True 16-bit data path