Following the announcement of the slightly underwhelming Sidewinder X5 gaming mouse, Microsoft have more for gamers in the shape of the Sidewinder X6 Gaming Keyboard.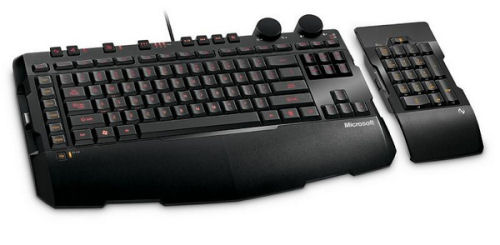 While not the most handsome of keyboards, the X6 is packed with features that should make it a very tempting choice for buyers.
The first, and most unusual feature, is the removable numeric keypad. This keypad can be positioned on both the left and right side of the keyboard, so if you're a left handed user who's always hated the default position of the number pad – here's your chance to change things.
The number pad also doubles as a programmable macro pad in 'game mode'. When combined with the macro keys on the main section of the keyboard, the Sidewinder X6 allows you to program up to 90 macros per game. Any key profiles you create are stored on the hard drive and can be configured to auto-load when you start a particular game. You can also record macros while in the middle of a game saving you the trouble of switching to the desktop to fiddle with macro software.
As you'd expect of a gaming keyboard, the Sidewinder X6 features backlighting. By default the lighting is a subtle red glow, but when the keyboard is switched into gaming mode (at the press of a button) the number pad and macro keys switch to amber lighting to make them easier to spot.
There's also the mysterious Cruise Control feature that allows you to "continue an action without having to hold down the key or keys assigned to the action. You can use Cruise Control with up to four keys at a time." If I'm understanding that correctly it sounds like the auto-fire switch you'd get on a gamepad or joystick.
Oh, and the funny looking round blobs at the top of the keyboard? They're both dials, one for the volume and one for the brightness of the lighting.
The Sidewinder X6 keyboard is available now for a retail price of $79.99, but don't go paying that much – just order it from Amazon and save yourself some cash.