Mad Catz Eclipse Litetouch Keyboard Offers Wireless Freedom
If you're the sort of person who likes to relax back in your chair, sofa or bed and browse the internet then the new Mad Catz Eclipse Litetouch keyboard could be perfect.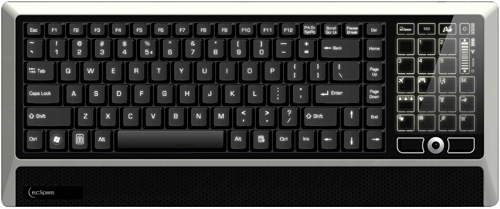 OK, so it's not really a gaming keyboard, but it is perfect for relaxed browsing sessions. For a start it's wireless so you can easily move away from your desk, but it also includes a tiny trackball built into the keyboard below the number pad so you don't need to take your mouse with you. This means you really can sit back and control your computer with just the keyboard on your knee.
Another nice touch is the touch sensitive LCD display that replaces the number pad – it can be switched between three different modes including number pad, multimedia controls and a programmable MyEclipse mode. The rest of the keys feature backlighting so you can also use the keyboard at night.
You might expect that battery life would suffer with all of this backlighting and the LCD panel, but the lithium-ion batteries are good for twenty hours use between charges, which isn't too bad really.
While Mad Catz are known for some cut-price accessories, this keyboard is actually released under their Eclipse badge at a retail price of $129. Check out the preview below: