Cyber Snipa Game Pad V2
Following my look at Cyber Snipa's fantastic Stinger mouse, I thought I'd take a look at another product in their range, this time the Cyber Snipa Game Pad V2.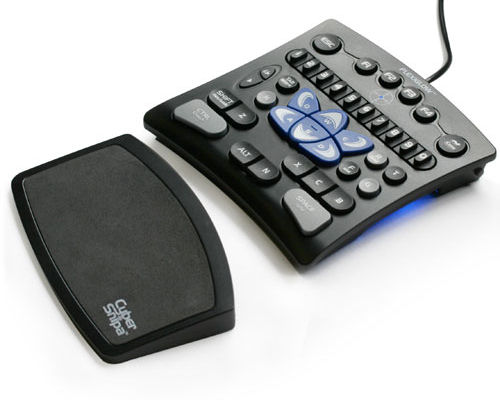 As the name suggests this is an updated version of their previous Game Pad and aims to please the growing horde of FPS fans. It's got stiff competition though as there are quite a few gamepads out there now, such as the Saitek Cyborg Command Unit and Belkin Nostromo N52TE.
So, what features does the Cyber Snipa Game Pad V2 offer?
Easy Peasy
Straight out of the box it's a simple affair to set up the Cyber Snipa Game Pad V2. Plug the USB lead into your PC and that's it … it's now working, with no need for fancy drivers.
Looking at the keys you can see that they're numbered and lettered to fit in with an equivalent key from a normal keyboard. All you need to do is setup your game so that the function you want is mapped to the appropriate letter or number on your Game Pad.
The downside of this is that without driver software you cannot program macros to the keys. Some might see this as a problem, others might be less bothered, but this is a feature that more advanced keypads offer.
Push My Buttons
There is some curvature to the keys, particularly the butterfly-style movement keys, which are large and blue – difficult to miss! You've got the standard WASD movement keys here, plus Q and E for leaning left and right. The keys are comfortable and easy to reach, although one criticism is that the Space bar is a little smaller than you will be used to after a normal keyboard. It takes some getting used to, but you'll be OK with it after a while.
In all there are 37 keys on the Cyber Snipa Game Pad, so that's a lot of in-game functions that can be mapped onto it.
Moody Blue
To give the Game Pad some extra style Cyber Snipa have seen fit to include some blue LED lighting. While this follows the current fashion for backlit keyboards, don't be fooled – there is no backlighting on the keys. Instead the lights simply emit a blue glow from the underneath of the Game Pad and the Cyber Snipa crosshair logo on top. While this does make it look cool in the dark it doesn't add anything to the practicality of the Game Pad.
Space Saver
The Cyber Snipa Game Pad is a compact unit that doesn't take up too much of your desk space. If you're really pushed for room you can remove the padded palm rest, effectively halving the amount of space you need to fit it on your desk. At first this sounds great, but don't forget you've still got to find somewhere to rest your palm!
Conclusion
The Cyber Snipa Game Pad V2 makes a good case for itself. It may not have the clever features of some of the more expensive game pads but what it does do it does very well.
It's comfortable to use and after getting used to the layout of the keys it should make a difference to your gaming. If macros are your thing then you might want to invest in a more expensive keypad, but otherwise you should find the Cyber Snipa Game Pad V2 a worthwhile addition to your gaming hardware.