Mionix Alioth 320 Mousepad Review
The Mionix Alioth 320 is the smallest mousepad currently offered by the Swedish gaming manufacturer.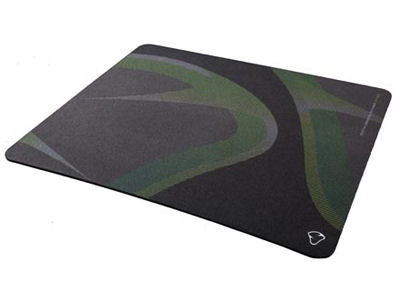 The Alioth 320 arrives in a transparent plastic box that can be reused to store the mouse if you want to carry it around but don't want to risk getting it dirty. About a third of the box is taken up by simple information about the mouse, the rest of the box allows you to get a good look at the Alioth and its pattern.
The mousepad itself is made of cloth and features a green, grey and black camouflage pattern. Being a cloth pad the Alioth 320 is flexible and can be easily rolled up and carried around with you.

The top surface of the cloth is covered in a glossy coating that provides a smooth, low friction surface on which to slide your mouse around. The rubber backing provides enough grip to keep the pad firmly in place.

Measuring 320mm x 270mm x 3mm the Alioth is of an average size for a mousepad, but if you prefer a large pad than Mionix do offer a bigger one – the Alioth 400.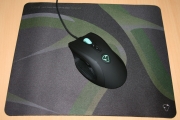 In use the Alioth 320 does a great job. The glossy coating makes it a much smoother surface than some other cloth pads, particularly my Everglide Titan Monster Mat. The mouse slides around with great ease, and it also makes movement a bit quieter too.

Mionix claim that the Alioth is compatible with optical, laser and ball mice. While I didn't test it with a ball or optical mouse, I did test it with both my trusty Razer Deathadder and a Mionix Saiph 3200 (both laser mice) and there was a noticeable improvement in sensitivity from both mice.
Where To Buy
With a retail price of €14.90 (roughly £14) the Alioth 320 is not the cheapest of mousepads, but it is £1 cheaper than the equivalent Razer Goliathus (standard size).
My Alioth was bought through Ebay, while Amazon and Play.com are also selling them.
Conclusion
The Mionix Alioth 320 is a particularly good example of a cloth mousepad. It's got a very nice surface that improves the gliding and sensitivity of the mouse, it's a perfectly adequate size and it looks smart.
If you like the looks of the Alioth then go out and buy one, you won't be disappointed.